YAHglobal Best & Worst Lists for Attractions Around the World
Best Ice Cream Trucks in North America
It's the season of ice cream and all over North America ice cream shops from mom & pop operations to big chain creameries compete to please your taste buds and make everyone scream for their ice cream. With food trucks becoming a staple in practically every city's culinary scene and changing the game for the way food is presented to the masses, it was only a matter of time that the traditional ice cream truck too was flipped on its softhead. While the old school trucks with the infinitely repeated Mister Softee "ice cream truck" song blaring from its speakers will always have a place in our hearts – the new crop of portable ice creameries are paving a new way for unique and gourmet twists on America's favorite summer treat.
YAHglobal.Com is serving you the scoop on the Best New Ice Cream Trucks in North America.
1
CoolHaus
Locations: Austin TX, Dallas TX, Los Angeles CA, Miami FL, NY NY
CoolHaus is the most recognized name in the new school ice cream truck business. Their funky stubby modernist designed ice cream trucks pop up on random street corners in California, Florida, New York, and Texas. Their biggest claim to fame is their take on the ice cream sandwich. CoolHaus Ice Cream Sandwiches include hefty servings of traditional to out-of-this-world ice cream flavors squished between extra-large gourmet cookies. The magic happens somewhere between the cookie selection and how it complements the ice cream you choose.
CoolHaus Ice Cream flavors range from Balsamic Fig & Mascarpone to Fried Chicken & Waffles to Gin & Tonic to Peking Duck and other flavors beyond comprehension. CoolHaus Cookies are a little less adventurous but still keep things interesting with choices such as Potato Chip & Butterscotch to Vegan Chocolate Truffle Banana. CoolHaus also has drool worthy hot chocolate selection if it's a little cold outside for ice cream. CoolHaus ice cream baristas behind the wheels are professionals so if you want to play it safe then take their suggestions on what combinations work best, otherwise adventurous souls should venture off on your own taste test. Whether you consider the CoolHaus ice cream sandwich menu sacrilegious to the ice cream truck business or not, we guarantee there will be at least one flavor combination that will have you chasing the CoolHaus truck down the street if it's passing through your neighborhood anytime soon.
View the complete CoolHaus Ice Cream Menu
View the CoolHaus Truck Location Schedule
2
Big Gay Ice Cream
New York, New York
No offense taken when we named the Big Gay Ice Cream Truck as one of the best in North America. This big bright and proud ice cream truck has been cruising the streets of New York for over three years running and its success has sparked a brick and mortar foundation to be laid along 125 East 7th Street between 1st Avenue and Avenue A. But this piece is about the portable version so let's keep trucking in that direction.
The cheerful demeanor of owner/operators Doug and Bryan has spilled over into every aspect of their fun business and the soft serve and sundae menu is no different. With flavors like the Salty Pimp (vanilla ice cream, dulce de leche, sea salt and chocolate chip), the Cococone (vanilla ice cream, toasted curried coconut), and the Gobbler (vanilla ice cream, pumpkin butter, maple syrup, pie pieces, whipped cream) to name but a few, the Big Gay Ice Cream Truck has legions of followers wandering the streets of New York looking out for the rainbow toned cone painted on the side of the white walls.
The Big Gay Ice Cream Truck also follows a weekly ice cream Shake Schedule worth following so to accommodate your inclinations towards a rich and creamy Chocolate Peanut Butter or a Ginger-Curry Shake, be sure to follow the Big Gay Ice Cream Truck twitter feed to find out where they are and what they're serving on any given sundae.
3
King Kone
Los Angeles, CA
King Kone roams the street of Los Angeles luring in passer-byers towards its gaping window. It may sound ominous but it's the lip smacking menu and buttery cream tone of the King Kone Ice Cream Truck that catches the attention of ice cream enthusiasts in LA.
King Kone doles out soft serve ice cream so fluffy that it draws comparison to the wispy clouds in the Southern California skies (minus the smog). While smooth and downy, the traditional trifecta of vanilla, chocolate, and swirled King Kone ice cream is complemented by candied accessories, molten lava thick syrups and the ice cream chef's attention to perfection. There's no complete reinventing of the wheel here, hiding behind exotic flavors for the sake of a gimmick. King Kone just delivers fresh, quality, and home styled soft serve. A sundae at King Kone changes your definition of what a sundae should taste like and when you slap on some crumbled Oreo topping, choc sauce, whipped cream with a whole Oreo on top (the Oreo Sundae ) this food truck on ice proves that it can take something relatively simple yet still blow minds in the process. The same goes for their Chocolate Dipped Cone, a classic that King Kone pays homage to perfectly. The King Kone (King sized sundae with all toppings of your choice in a King sized waffle cone) packs a wallop for those packing an appetite and the Bangin' Banana Split (3 mounds of ice cream, chocolate, strawberry, caramel, banana, whipped cream, nuts, cherries, & topped w/a butter waffle cookie) is the ultimate of the bunch and our personal favorite. King Kone also has milkshakes and ice cream sandwiches but our other must-try suggestion goes out to the Avalanche – a Hawaiian styled (ala Aoki's or Matsumoto's of Oahu) blend of shaved ice and ice cream.
King Kone will have to pounding your chest and screaming for more of their ice cream once your full belly subsides and creamy mustache has been licked away.
Our only issue with King Kone is that they are too often booked for some private party engagement so be sure to follow King Kone on Twitter to make sure you can track them down the next time you are in the LA area.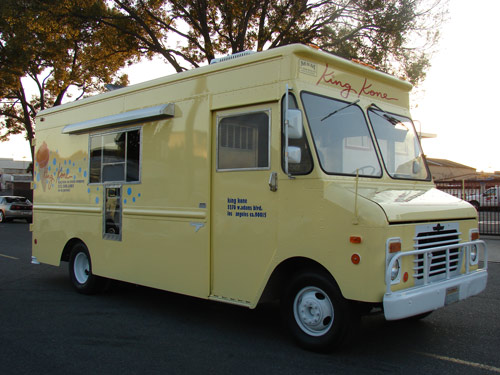 4
TreatBot Ice Cream Truck
San Jose, CA
(408) 548-7328
We have a confession. We honestly didn't want to like TreatBot the Karaoke Ice Cream Truck from the Future. It's got gimmick written all over it. Depending on which evening you happen upon this San Jose ice cream truck, customers can be seen with a microphone in hand and unfortunately heard attempting to sing for their ice cream which can make karaoke averse people like ourselves want to scream. Staff at TreatBot is a little too cute as well, which upon first impression had us worry that past reviewers of TreatBot had gimmick goggles on which impacted their ability to identify good ice cream in the same manner as they have with the Aphrodisiac Ice Cream Truck in Southern Florida - the Hooters of ice cream trucks.
Instead, upon inspection of the menu and the subsequent tasting of the goods, the TreatBot truck turned our unfair initial assessment around 180 degrees. The creamy caramel based "408" ice cream, especially when packed within TreatBot's Snickerdoodle cookies, converted us into TreatBot fans quick. We also sampled their famed Horchata Ice Cream - Mexican rice milk cream w/cinnamon - and found that the fame was justified. What a great ice cream! It has such a unique flavor that works so well that Ben n Jerry's better get on board quick because we cannot live without this flavor until our next pass through the Bay Area.
While you won't see us with a karaoke mic in our grips anytime soon we'd definitely get in line again for TreatBot's true main attraction - the ice cream.
Follow TreatBot on Twitter for their current location.